African Women and the Digital World: TEFEM Changing The Narratives
There are lots of digital skills available for the African women to empower themselves with, however how to teach these women the value of digital literacy with the yarn for gender equality in technology may be a problem. Consequently, The Female Media Network (TEFEM) is a non-governmental organization set to provide solutions by making the learning of digital skills for women 0more comprehensive and thus applicable.
It is no secret that women are often stereotyped as being less tech-savvy than men. If you say no, why then is the population of women with digital skills down to 20% compared to men?
Well, we could trace the problem to different sources. However, one of the prominent setbacks for African women is that tech involves only coding, due to the perceived mathematical problem most African women tend to shy away from learning a digital skill. Furthermore, tech is seen to be time-consuming and hence time demanding, so women were better off doing only traditional jobs to enable them to care for the children. Today, this perception is changing thanks to awareness campaigns and sponsored Boot Camp programs; just like that The Female Media Network organizes quarterly.
Women are now entering STEM fields at higher rates than ever before. In fact, they account for nearly half of computer science graduates. Yet, despite these gains, women still face barriers in the workplace. The gender pay gap remains stubbornly high, and women continue to receive lower salaries than their male counterparts.
Also Read: 10 Digital Skills Every Lady Should Know IN 2022.
How To Teach Women In Africa
Technology has become an integral part of our lives. As such, it's important that everyone has access to the tools needed to succeed in today's workforce. This means ensuring that women have equal opportunities to develop their digital skills.
Moreover, technology has changed the way we live our lives. From the way we communicate to the way we shop, from the way we travel to the way we earn a living, technology has become an integral part of our daily life. Hence, technology plays a vital role in every aspect of our lives. Whether it is through smartphones, tablets, or laptops, technology has become an essential part of our day-to-day activities.
Still Confused?
Even when African women are now taking advantage of these technologies and learning digital skills in order to improve their career prospects. It is also important to identify another major setback; which is ''how to teach women digital skills''. How to teach these women digital skills requires a different approach.
Even with the best teachers, the majority may not be carried along. Hence we started holding conferences before we commenced the training, where we sought top African women with digital skills. These women know the value of digital literacy and thrive for gender equality in Technology, hence our students were able to relate with them and get all the motivation they will need to start training.
Although it is a cliché to empower women with a skill. Regardless, teaching digital skills to women is the way forward in Africa. Currently, a strong tech skill set is becoming increasingly important.
Also Read: Tech. 10 Very Easy steps Needed to Transition into A Tech Career.
Value Of Digital Literacy For Women In Africa
It's no secret that most companies are now moving towards hiring women in positions such as marketing and sales because they have shown to make better decisions when choosing their next hire. However, having these skills isn't enough. Companies also want employees who have a good understanding of social media platforms like Facebook, Instagram, Twitter, etc.
Most tech companies started out as a niche, focusing only on male customers. Yet today, men and women alike are embracing new technologies and using them every day. Now that women are entering the workforce, companies should invest in training and providing opportunities for them to succeed.
Since women are becoming more involved in various sectors of the economy. They are gaining ground in STEM fields. This means that they have become an indispensable part of the future of our society. As a result, companies should spend time and resources developing programs that train women for specific roles within their organizations. Offering internship roles is another way to encourage these women.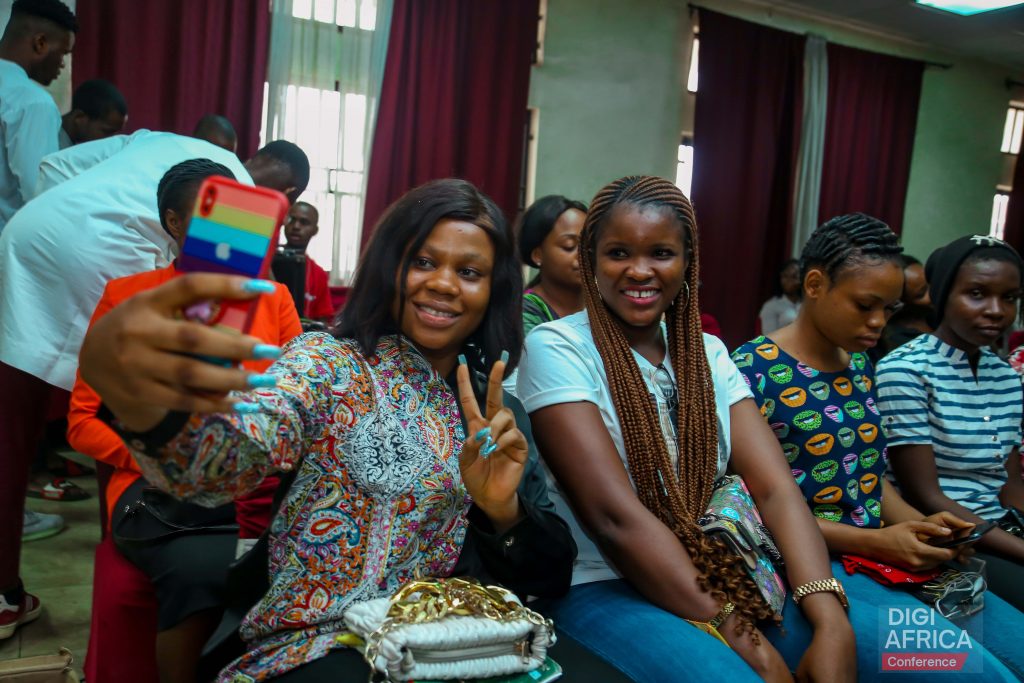 How To Achieve Gender Equality In Technology
According to Eneh Mercy, the lead creative at The Female media Network "Nobody deprived ladies of joining tech space, because the tech guys are so accommodating provided you are serious''. These guys pretty much learned these digital skills perhaps on their own, since they took an immediate liking to the digital space.
Fast Forward to today the need for diversity identified the need for more ladies to join the industry. Unfortunately, not many women with digital skills could be found, hence awareness for tech opportunities was launched.
This is not to deny there is no gender inequality in Tech, just like every other sector. However, since the tech industry is only answerable to ''who can solve the problem''. To this effect gender equality in technology is achievable in a short while.
Digital Skills For Women In Africa
It is no longer news that the tech sector is dominated by men. Even with the 25% of women that are graduates of computer science, women may see themselves as under-represented in the tech industry.
To adequately bridge this gap, The Female Media Network is making tech applicable in our daily lives. Thanks to the use of smartphones and computers, hardly you see an African youth lacking either of these gadgets.
Hence 10 different courses have been provided, some training with the use of smartphones, and the rest with the use of computers. With this method, you hardly hear the normal excuse "I don't have a computer".
Furthermore, we encourage women to pursue careers in tech by correcting the myth that for some reason is holding them back. Since most African women simultaneously interchange tech and coding, we thrive on explaining and educating them on the 2 terms.
The digital skills we offer include
Social Media Management
Content Marketing
Copywriting
Data Analyst
Front End Development
Backend Development
Public Speaking
Graphic Designs
UI/UX Designs
Since we aim to empower African women with digital skills, we also give these women opportunities to learn and upskill to know the skill they are more comfortable with, TEFEM offer these women rare opportunities;
THEY CAN LEARN ALL SKILLS PROVIDED THEY PASS THE FORMER
This comes with no additional cost. One might wonder, won't this bring about confusion?
No, it won't
Let's take a case study to explain
Gift started in TEFEM with Graphic Designs, for the next cohort she is mandated to present her certifications which signifies she passed the training and is ready to take a new training.
Hence she applied for UI/UX Designs after she noticed the need to learn Copywriting to up her game in UI/UX Designs. Gift is evolving in the tech space, she is discovering she really can do "tech" so the upper cohort she applied for Frontend Development.
So what is stopping you from joining The Female Media Network? If you think learning a digital skill is hard, just start like Gift and be sure to excel and elevate if you put in the effort matched with our trained facilitators.
Also Read:Top 20 Benefits of Learning A Digital Skill
Frequently Asked Questions
What are the Tips And Guide To Learn Digital Skills
There are many benefits that come from having a good understanding of technology. You can use this knowledge to improve your career opportunities, save money, and make better decisions about your personal finances. If you are interested in learning how to become a tech-savvy woman, here are some tips to get started.
 Nonetheless, start small. Don't try to learn everything at once. Instead, focus on mastering one aspect of technology before moving on to the next. For example, start by learning how to use social media platforms like Facebook and Instagram. Once you feel comfortable using these tools, move on to other aspects of technology.
 Furthermore, learn something new every day. Technology changes rapidly, so it is important to stay current with what is happening in the world of technology. Subscribe to newsletters, read blogs, watch videos, and listen to podcasts related to technology. These resources will help you keep up-to-date on the latest trends in technology.
 Find a mentor. Having someone who has experience in the field you want to pursue can be extremely beneficial. A mentor can provide guidance, advice, and feedback on your progress. Mentors can also help you identify areas where you need improvement. The Female Media Network(TEFEM) provides successful students with mentors to guide and provide solutions to problems these students may encounter. 
But, don't be limited to reading books, going on YouTube, etc. Reading books and watching videos related to technology can give you insights into the industry and help you develop a deeper understanding of the subject. They can also serve as inspiration for your own projects.
Is Tech Hard For Women?
Firstly, there are many reasons why technology is not easy for women. One reason is that we have been conditioned to believe that men are better at technology than women. This has led us to think that we can't do something well.   
But the truth is Tech is not hard and it isn't bread and butter at the same time. The industry is not a respecter of gender as we have earlier mentioned. Learn a digital skill and most importantly become competent in that chosen field.
 Technology is evolving at a rapid pace. In fact, technology is changing faster than ever before. This means that if you aren't willing to learn, you could become obsolete. On the other hand, technology is also making things easier. Instead of spending hours and days trying to figure out how to fix something, you can simply send it off to get fixed.
Hence, join our next cohort training, if you think Tech is hard, TEFEM is known to break down "hard" into chunks.
Reference
https://www.weforum.org/agenda/2021/11/digital-entrepreneurship-africa-botswana-women-gender-equality/
https://www.unwomen.org/en/news/stories/2021/10/feature-addressing-the-digital-gender-divide-in-africa